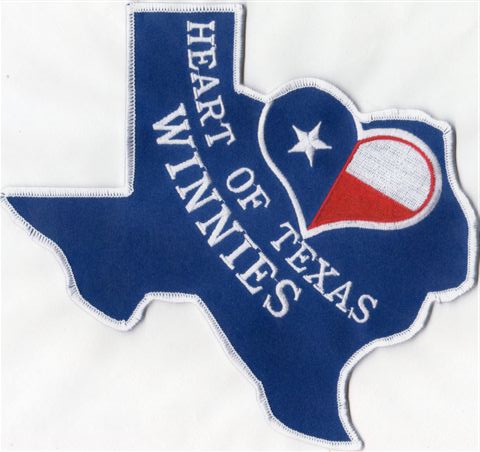 HEART OF TEXAS WINNIES

The Heart of Texas Winnies was organized under a charter granted by Winnebago Itasca Travelers (WIT) on November 4, 1972. The chapter represents the greater Dallas-Ft Worth area.
WHO MAY JOIN THE HEART OF TEXAS WINNIES
Any owner of a Winnebago or Itasca product who ENJOYS HAVING FUN and who is also a member of the Winnebago Itasca Travelers Club (WIT) is welcome to join.
Most members are retired; however, we have members who are still working but who

want to join in the good RV lifestyle.
Our meetings normally begin on Thursday the 3rd weekend of February, March, May, June, August and September. Our November and December meetings are the 2nd weekend. Our meetings are held at locations within 150 miles of DFW area. Our meetings normally begin on Thursday and run through Sunday morning. However, many members arrive as early as Wednesday so they can have more fun. Members and guests may arrive early and stay late if they desire. A typical meeting usually includes playing games, eating out on Friday evenings, conducting a business meeting Saturday morning, playing more games, and having a potluck meal Saturday evening. A devotional is held Sunday morning before the meeting is over and members head for home. Throughout the days and evenings, members enjoy playing games such as Joker, Dominoes, Thirty-one, or Mexican Train, in addition to working on puzzles or crafts. Members enjoy visiting attractions or shopping in the local areas. We also hold meetings during the Texas W Club meetings in January, April, and October and attend GNR in July.
WARNING:
HAVING FUN IS OUR MAIN OBJECTIVE
---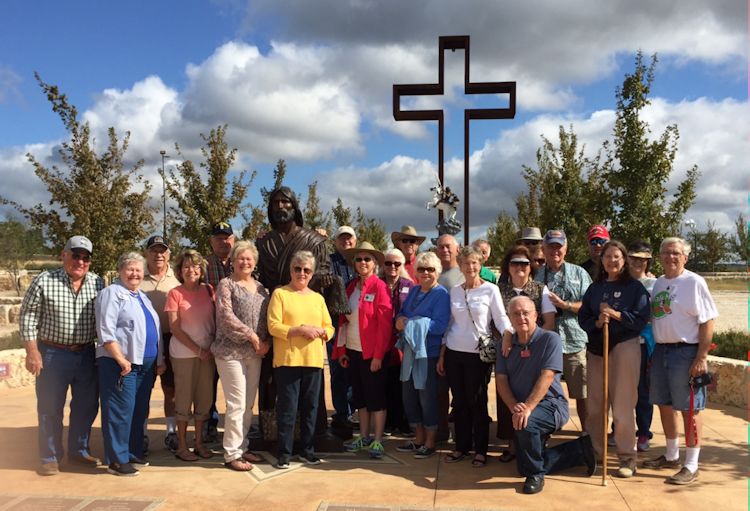 Heart of Texas Members attending the week long event at Bluff Trails
Ranch
outside Kerrville took time to visit the "Coming King Cross" and
Prayer
Garden North of Kerrville Texas

The Cross stands 77' 7" tall and contains 70 tons of
steel
on a 300 foot cross- shaped
garden,
located
in the hill country at Kerrville, Tx, on IH
10
.
This is where the entire group prayed together in the open cross after seeing the
sculptures and the scriptures along with the Scripture tiles.
Peace and beauty was felt in this Garden Tabernacle as we walked on God's
land on the mountaintop. by: Mimi Phillips
---
Meeting Schedules
Upcoming Events Schedule - View and Print
---
LONG TRIPS

Long trips may be organized periodically by some of the members. Some of our past long
trips include Big Bend National Park, Wisconsin Dells followed by a trip down along the
Mississippi River, camping in the Hill Country, The Outer Banks of North Carolina,
Louisiana Gardens & Casinos, and South Texas.
Website Launched July 30, 2012 - Updated: December 28, 2018